6th Ramsgate Scout Group is a Royal Navy recognised Sea Scout Group
As well as traditional land activites, we get to do lots of water activities.
Our Scout section is divided into Patrols of 6 to 8 Scouts named after British birds.
Patrol Leaders are appointed by the Leaders who feel they meet the requirements, have shown commitment and have a good knowledge of scouting.
The Patrols are led by a Senior Patrol Leader, who from the quarterdeck leads the young people in their drill, and helps oversee activities.
The Senior Patrol Leader is always the most experienced and most dedicated scout.
As an RN recognised group, there are additional badges that Scouts can earn as well as water activities, the challenge badges and traditional scouting badges.  This is a lot of scouting!  So to fit all of this in we have put together a three-year rolling program.
There are also many indoor activities as well as trips to local places of interest and many district run events.
From around mid-April to the end of October we try to get away from the confines of the scout hall and carry out as many outside activities as possible.
November to April we are based at our HQ and to break up the winter months, we usually have short weekend camps and hikes.
We organise several trips throughout the year including boating weekends and trips to HMS Bristol in Portsmouth.
All camps/trips provide opportunities to earn badges and some qualifications.
Easter boating weekend
HMS Bristol
Summer Camp
Autumn boating weekend
Christmas camp
Water Activities are our main outdoor activity which is very strictly managed by our qualified leadership team.  These include Pulling, Power Boating, Sailing, Kayaking and Canoeing.
Scouts have the opportunity to try all the water activities, normally there will be ones that they love and ones that just does not suit them, this is no problem. Any sea scout who cannot swim can still take part with the water activity provided they are wearing the correct lifejacket. All the water activities are geared towards national standards, Sailing and Power boating towards the RYA (Royal Yachting Association) and Kayaking towards the BCU (British Canoe Union).
During the summer, times and days can vary due to working with the tide.
Land activities are a major part of scouting. We try to organise one main camp each year these could range from a traditional camp which is based in a field with a tap, an activity camp with all activities laid on or staying onboard a type 42 destroyer (HMS Bristol). Short weekend camps are normally undertaken during the winter months and hikes are carried out all year from 4 miles up to twenty miles.
Thanet District Scouts often organise events which are open to all Packs in the District – they are many and varied.  Raft Racing, Soccer sixes,  Swimming Gala, and the Monopoly Run.
We try to take part in as many of these district activities as possible.
As part of our Scouting duties, we expect all Scouts to attend two parades throughout the year.  The first is St George's Day, which is organised by the District and takes place in April at the Winter Gardens, Margate.  The other is Remembrance Day in Ramsgate in November which takes place in St George's Church, Ramsgate.
Scout Badges
There are a range of badges and awards available to young people in the Scout section.

Activity badges
There are many activity badges to be earned covering a whole range of topics and skills!
Activity badges allow Scouts to show their progress in existing pursuits, but also to try all kinds of new things and form new interests.

Staged Activity Badges
Scouts can also earn Staged Activity badges.
These badges are awarded to Scouts for an an appropriate level of challenge, covering a range of topics and skills at increasing levels of difficulty.
Challenge awards
Gaining a challenge badge involves accomplishing a number of more ambitious tasks within the Troop or community.
The challenge badges cover themes, from the physical and outdoors to challenges, dealing with the local community or issues connected with the Scouting world.

Core badges
The Core badges include the Scout membership badge, group badges and moving on awards.
In addition, there are a number of core badges, obtained upon joining or moving on from the Troop, or for time spent in the Scouting movement.
There is a Scouting app available for iPhone/iPad and Android which is easy and fun for children to use. It has a comprehensive list of all badges and awards that are available. Search for "My Badges" in the iTunes Store or Google Play Store.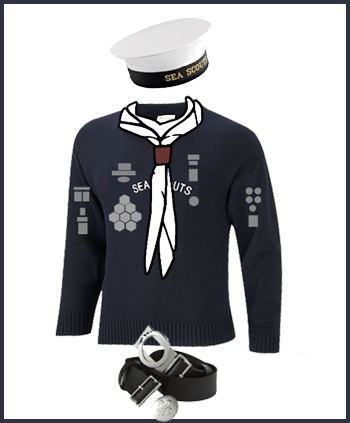 Our Sea Scout uniform is a Navy Blue Sea Scout Jersey and Royal Navy Sea Scout Hat.  This is accompanied by a pair of smart black trousers and a Scout Belt.  These can be bought from any school wear shop.
The white necker and woggles are available from us for £3.00 and £1.50 respectively.
The Hat will need a Taliband which you'll need to buy along with the hat and these are £5.
The Royal Navy Caps can be ordered from Naval Stores for a cost of £22.43.
Please send a letter directly to Ms B Carter, 1/49 HM Naval Base, Portsmouth, Hampshire, PO1 3LT, providing your child's head measurement in centimetres and state that you are a member of 6th Ramsgate Sea Scout Group.  Please enclose a cheques for the cost, made payable to MOD Public Sub Account HMG 5018.
If you have a Cub who would like to join 6th Ramsgate Sea Scout Group, please download the Cub Welcome Pack, which should give you all the information you need to know about joining and being a member.  The pack contains joining forms and standing order form.  Please bring the forms with you to your Cub's first meeting.
Come And Join Us To Begin Your Adventure!
Our Leaders are ready to welcome you to their next meeting.